The Interview That Wasn't
My tour of Russia is going really well and I am having fun. The cold I left home with has completely gone and, thank God, I am feeling strong and healthy now.
Apart from a Soviet sound mixer/operator at one show, things have been going smoothly .... cosmically smoothly in fact!
Our bus driver "DJ Trouble" knows the way to everywhere and most of the half-way civilised truck stops. Cinderella sleeps while her frog prince changes hotels at the last minute and Euge the Hobbit, Miss Prim and myself sleep, read or use "honeybadger" (affectionate name for our in-bus wi-fi) .....when we have mobile coverage that is!
"Eight shows down and we´re back on the bus no-one else around just the six of us, headed for the next town, don´t get in my way, I gotta get ready, got some tunes to play"
Now, we are in the Russian winter and there´s snow everywhere, which everyone seems to think is "pretty". Except for me that is! I think snow is for skiing and I didn´t bring my skis so the snow is unnecessary. (actually, I no longer own skis. Don´t have a whole lot of need for them in my part of Spain!)
And I am typing this whilst we trundle skilfully along the cosmically bumpy Russian roads and crossing the Ural Mountains, so some interesting words are emerging, none of which you will see, because I will have corrected them. A lot of people complain about the roads in Russia but I have come to the conclusion that they leave them like this to help keep the long-distance truck drivers awake! Doesn´t help my naps much though.
And "Trouble" also knows where to stop to buy bear fat and other oils from the jolly-looking ladies at the side of the road (see photo below), their little road-side stands surround by a kazillion Christmas trees. Totally, even cosmically cool.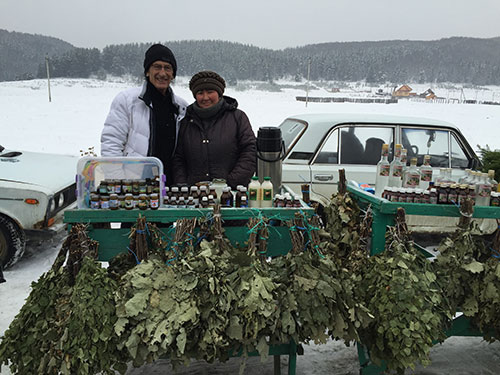 I have done a lot of press on this tour, mainly to counteract the fact that so many artists and/or promoters are cancelling shows and some of the public have become a little skeptical. So we do advance phone interviews, lots of national radio and TV and it seems to be working. Lots of people risking life and limb on the ice-covered streets to hear me sing and tell my stories. I am happy and thankful.
This morning though, as we left Ufa for the drive to Magnitogorsk (Miss Prim advises me that this means "Magnetic Mountain"), DJ Trouble, assisted by Gloria, his GPS system, drove us to the radio station where an interview was planned. After some cosmically curious navigation around a building that was obviously about to crumble to the ground and a ride in an elevator that was centuries past its use-by date, it seemed we were the only ones who knew about the interview and I quickly decided it was time to leave! I hoped and prayed the elevator had at least one more ride in it before it collapsed totally and we counted our lucky stars as we escaped and ran back to the bus!
("Trouble" just lived up to his name and we were stopped for speeding! This required a €13.00 donation to some worthy cause that wasn´t precisely identified and, anyway, I don´t want to know!)
I hate surprises on these tours though and the Frog Prince just lobbed me another one ... "how about a press conference when we get to our destination?" (oooh! yippee! Can´t think of anything I´d rather do!)
That would be about 4 hours from now, by which time I will have had a few naps, muttered a few curses over the disgusting brown liquid that masquerades under the name of coffee and read a few more chapters of my Jeremy Clarkson book.
In the interests of the tour I will do it of course, but they will have to take me as I come!
And of course I will protest pathetically and generally make a fuss which will be completely ignored.
To be honest, I don´t have a lot to complain about, just a lot to be thankful for.
And I am!
More soon,
Ken
<><