NINETEEN MONTHS OF MADNESS!!
Hi Everyone
I hope you are all happy and healthy and, if so, I hope to join you there soon!
I´m writing this from home, where I am just finishing a welcome break after the last, crazy 19 months of touring, recording, producing and writing.
In January this year I had surgery to fix my carpal tunnel syndrome and, thankfully, it was a success and I was back to playing and practising within a couple of weeks. It´s just amazing what they can do now and I KNOW how lucky I am!
This Friday I leave for London and on to Kiev to start my 8-show solo tour of Ukraine in Chernigiv. Not exactly solo, because I will have a string quartet and 2 backing singers with me, but we will be playing some new songs live for the first time so I am looking forward to that!
During my break I celebrated yet another birthday and I thank everyone for all the good wishes I received from all over the world!!
From Sydney, Australia to Southern Siberia and all points in between and around, I´ve been playing live. Sometimes alone or with orchestras, with string ensembles, choirs and, of course, my incredible band, LIVE FIRE.
After two weeks of pre-production in Guy Delandro´s home town of Sydney, we spent 2 months producing his first studio album here in Alicante. Great songs and great talent made this long project easy and I hope for big things for Guy and for the record.
I also worked with BMG Records in the UK on a solo compilation called ¨Rare & Timeless¨, which was released in March 2018 and is available now, just about everywhere.
This was a fun project and it was especially great that BMG gave me the freedom to choose the tracks, designed to represent the part of my solo career from 1970 until November 2017.
And we celebrated this with a release concert at The Hospital Club in London.
I think the most fun part was trolling through the more than 200 songs I had to choose from! If you haven´t got it yet, you can check it out in all the usual places.
One of the highlight concerts of the past year was headlining the festival in Novokuznetsk, Russia, where me and Live Fire played to 35,000 people. Amazing!
So ... next week I will have all my annual health checks and prepare for shows in Ukraine, US, Finland, Switzerland and Russia, at the same time working to finish the plot line for the musical and the demos for the new album, Monsters & Machines which we´ll start recording in early Spring 2019.
Thank you for making all this possible. I look forward to seeing you whenever and wherever this train makes a quick stop.
God bless
Ken
<><
Some of Ken's Latest Work
More News
New Gig in Novokuznetsk, Russia!




I am very excited to announce that I will be playing an outdoor show in Novokuznetsk with Live Fire on 7th July this year,
to celebrate the 400 year birthday of the City.

To all my fans and friends in Russia I look forward to seeing you there, hope you can make it!

God bless

Ken <><

What a great way to start 2018!!

Every new year is exciting to me, bringing new challenges and opportunities but this one is really special because I can share it with you.

My new CD, "Rare & Timeless" is released on March 30th by BMG Records, but you can pre-order it now from Pledge Music - just click here!

It has 15 songs that cover my career from 1970 to now, including some re-records, re-mixes and Two Brand New Songs! Hand-written lyrics, notes and credits, as well as some rare photos from my personal files!

And, at the Pledge Music page, you can also grab a chance to join me at the release party on february 26th at the hospital club in london, where i will play my acoustic solo show! There are only limited spaces available so you´d better jump if you want to be a part of this very special event. I would love to see you there and, of course, during my show, I will be playing some of the songs on the CD, plus others and I will be sharing this moment with some very special people who also helped to make this happen all those years ago.

Of course, we have lots of other stuff planned for 2018, but let´s get together now and kick things off in a big way!

God bless

Ken <><

Hi Everyone!

I know ... I´ve been quiet here for a while, but that's only because I have been so crazy busy!! In the music business/industry, conventional "wisdom" (and, in the context of the so-called music industry, I use the word "wisdom" very selectively!) says I should have slowed down years ago.

I say ... "why?" I love what I do and I especially love that other people (like all of you) love what I do and, even if my passion for what I do wasn´t enough to keep me doing it (which it is), you all would give me a million good reasons for doing it.

Having just celebrated my 72nd birthday, I humbly reflect on how much I have accomplished in my personal and professional lives and I rejoice and give thanks that I am still able to write, play and sing.

My career once gave me riches I couldn´t understand or manage. Now I have the real richness of a great wife, a great family and a wonderful ¨sub-family¨ of fans and friends all over the world and this means more to me than any amount of wordly riches!

So, as long as you want me there and as long as God gives me my health and strength, I will be there! Not for ¨them¨, not for the money and certainly not for the fame.

FOR YOU! I am, YOUR WIZARD!!

God bless you all

Ken <><

This is going to be such a great moment in my career and and a piece of rock & roll history!

Me and Live Fire will be Alice´s band for one night only and to be on stage together with him is going to be amazing ... at least for me!!

Ken <><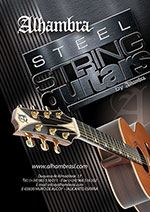 Alhambra Guitars
In concert, Ken Hensley plays Alhambra steel-string acoustic guitars exclusively.
Want to know more? Visit their website.
Alhambra Website