Special Announcement
Hi Everyone
I am really happy to announce my new, personally prepared anthology, entitled "Rare & Timeless", which will be released on the 30th of March, 2018.
"Rare & Timeless" is a personally selected collection of my work over the last 50 years and features a bunch of rare & unreleased tracks, plus 2 brand new songs and one new re-recording, exclusively for this album.
The album is available to pre-order exclusively from Pledge Music where I'll be offering signed copies of the album, exclusive memorabilia, sneak preview content and Pledge Music is also the place to buy tickets to a very special PRIVATE GIG which will happen in central London, 26th February.
To pre-order Rare and Timeless click here
I am so happy to have this opportunity to thank you all in this way for your love, support and encouragement over the years.
Your Wizard,
Ken
<><
Some of Ken's Latest Work
More News
New Gig in Novokuznetsk, Russia!




I am very excited to announce that I will be playing an outdoor show in Novokuznetsk with Live Fire on 7th July this year,
to celebrate the 400 year birthday of the City.

To all my fans and friends in Russia I look forward to seeing you there, hope you can make it!

God bless

Ken <><

What a great way to start 2018!!

Every new year is exciting to me, bringing new challenges and opportunities but this one is really special because I can share it with you.

My new CD, "Rare & Timeless" is released on March 30th by BMG Records, but you can pre-order it now from Pledge Music - just click here!

It has 15 songs that cover my career from 1970 to now, including some re-records, re-mixes and Two Brand New Songs! Hand-written lyrics, notes and credits, as well as some rare photos from my personal files!

And, at the Pledge Music page, you can also grab a chance to join me at the release party on february 26th at the hospital club in london, where i will play my acoustic solo show! There are only limited spaces available so you´d better jump if you want to be a part of this very special event. I would love to see you there and, of course, during my show, I will be playing some of the songs on the CD, plus others and I will be sharing this moment with some very special people who also helped to make this happen all those years ago.

Of course, we have lots of other stuff planned for 2018, but let´s get together now and kick things off in a big way!

God bless

Ken <><

Hi Everyone!

I know ... I´ve been quiet here for a while, but that's only because I have been so crazy busy!! In the music business/industry, conventional "wisdom" (and, in the context of the so-called music industry, I use the word "wisdom" very selectively!) says I should have slowed down years ago.

I say ... "why?" I love what I do and I especially love that other people (like all of you) love what I do and, even if my passion for what I do wasn´t enough to keep me doing it (which it is), you all would give me a million good reasons for doing it.

Having just celebrated my 72nd birthday, I humbly reflect on how much I have accomplished in my personal and professional lives and I rejoice and give thanks that I am still able to write, play and sing.

My career once gave me riches I couldn´t understand or manage. Now I have the real richness of a great wife, a great family and a wonderful ¨sub-family¨ of fans and friends all over the world and this means more to me than any amount of wordly riches!

So, as long as you want me there and as long as God gives me my health and strength, I will be there! Not for ¨them¨, not for the money and certainly not for the fame.

FOR YOU! I am, YOUR WIZARD!!

God bless you all

Ken <><

This is going to be such a great moment in my career and and a piece of rock & roll history!

Me and Live Fire will be Alice´s band for one night only and to be on stage together with him is going to be amazing ... at least for me!!

Ken <><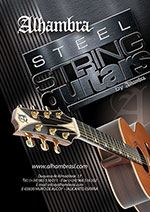 Alhambra Guitars
In concert, Ken Hensley plays Alhambra steel-string acoustic guitars exclusively.
Want to know more? Visit their website.
Alhambra Website